2 THE CARGO Sp. Z o.o. - Interview with Michal Kisiel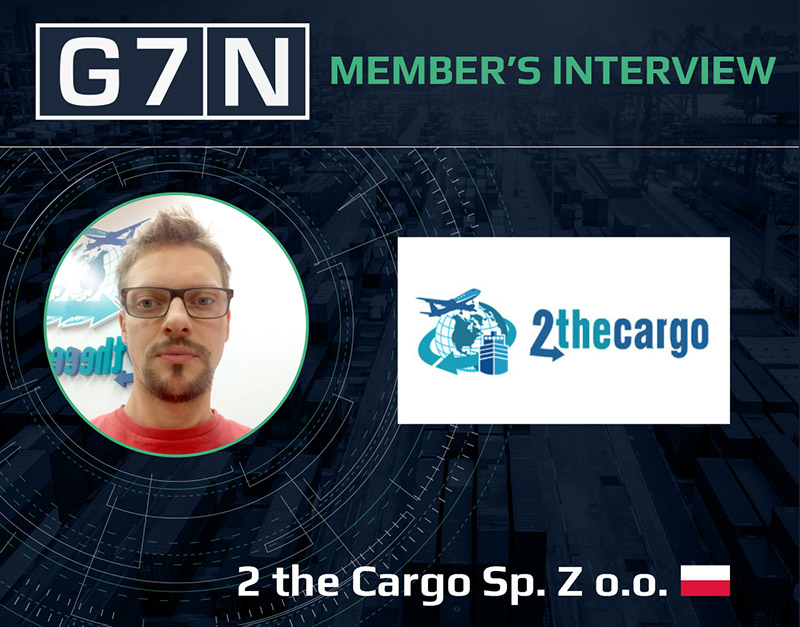 2 THE CARGO Sp. Z o.o. is a young and dynamically developing enterprise, who is constantly building up their market position. They act with passion in the field of transport and have wide knowledge of logistics, which makes them a perfect fit for G7N. They fully and personally engage equally to fulfill either huge or small achievements.
People behind 2 the Cargo posses many years of working experience in a multi-national corporations as well as with small forwarding companies, which makes it easier for them to find brilliant and accurate solutions for each shipment. They pride themselves in providing full flexibility, individual solutions and real, rapid information. Let's get to know more of these through their General Director - Michal Kisiel.
How does 2 the Cargo makes a difference with other freight forwarding companies in Warsaw?
MK - Well, this is rather the question, that our customers should be asked. Nevertheless, I think that personal approach is the key to our success. We did not create procedures, that would kill decision-making process and that would allow real individuals to create a solution for every single shipment. That made us doing really extraordinary businesses as live animals projects, dangerous goods and any kind of everyday routine. Besides, we don't feel that our customers are our enemies, as it is sometimes feels in this business.
Kindly tell us some background of your company. When did it first establish and how it started?
MK - 2 THE CARGO was established 3 years ago (on November, it was our birthday as a matter of fact). Being tens of years in the industry, we created the Enterprise, which in our vision is and was helping importers, exporters and overseas freight forwarders in real logistics world, not in an imaginary one. And the Company is the result of our experience, knowledge and hard work. Since the beginning, we are constantly learning something (the industry keeps surprising me), we are changing, according to needs of our customers. To make a long story short, although it may sound as empty words, we really feel that we need to follow clients request. For instance, we had never predicted to deal with warehousing and storage and the life changed our strategy, creating it as one of the regular and fast developing business.
What's your ideal vision of the freight forwarding industry?
MK - If there was even a slight vision of ideal forwarding industry, we (freight forwarders) would have not existed, simply. Ideal would mean predictability and reliability on every step of logistics chain. Well, I would also add compatibility of all IT systems, working properly, constant good moods of the customers, their reliable expectations and their great will of invoices payment on time. Come on! My imagination is huge but this is not even a science-fiction, but Utopia…
In Poland, what are the challenges you face with regulations and other factors that affect shipping?
MK - I think still customs authorities, their approach and legal regulations. Poland is changing rapidly. Things that were impossible few years ago, now are being done at Customs without any problem. Nevertheless, although there is one Customs system for the whole country, there are specific approaches of individual clerks on different places. For instance, different document shall be presented to Warsaw Airport Customs authorities and different ones to Gdynia/Gdansk harbours. There are still some kind of cargo, that shall not go via specific Customs offices. Quite tricky, especially that only experience may prevent you from those problems. This shall be united in 100 %.
How did you get into the freight forwarding business?
MK - By coincidence. I started working in Evergreen Line just after studies as they were searching for some staff to Warsaw branch. And that was it. It caught me in and haven't released me till now. Although, I have already gone through large enterprises, as well as through smaller companies.
How does the technology affected the logistics industry?
MK - From one hand, it made us working faster and expectations also enlarged. That also created the world without boundaries. I have no problems to work with New Zealand, Australia, Far East, Middle East, European countries and America at the same time. On the other hand, it killed our personal life as we are accessible 24/7. Moreover, we became addicted to technology, which created huge difficulties in direct social contacts between people. This is what I noticed, especially within younger generations and this can been seen everywhere I suppose.
Do you think with the modern technology can replace human labor completely for the freight forwarding business? And why?
MK - On my personal opinion, absolutely not. Maybe I am old fashioned, maybe this is a matter of increasing grey hair on my beard, but I try to keep the most personal contact to people as possible. I constantly hear that my customers prefer to use their phone and agree with everything, instead of clicking sheets on their laptops. Whatever we do, human beings are social creatures and they will be as close to each other, as moth to the light.
How does the logistics industry changed from the time you started and now?
MK - It speeded up surely. It also created an enormous amount of players, which effected the increase of competition. Simultaneously, expectations arose as well.
What is the most difficult shipment you ever handled in your entire career as a freight forwarder and please explain the solution you applied?
MK - There are some customers, for which moving every pallet is an extreme challenge and handling is very risky to your health. I have already personally supervised and arranged military good transportations (also for film shots), every AVI shipment is a kind of difficulty as OOG projects movements. And I could list really some of them. Nevertheless, I can see two big matters. One was arranging the air charter with three 20' containers, specially bought for the customer and sending them to Afghanistan for Army usage. They were full of computer equipment, which also had to be properly prepared, repacked and so on. Second "big deal" what I think of, is something that didn't make the huge visualized effect, but it was really a huge thing. For aerospace industry customer, we created a special procedure in their local Customs Office, allowing their cargo being specially dealt. I don't want to get deep into details, but it was the first time in Poland that such procedure was launched and it created millions of USD saved every year for customer as their cash flow. It costed us hundreds of hours talking to different authorities, tens of meetings, weeks of waiting, but finally we did it, what was really a spectacular achievement (although we didn't move any carton as a matter of fact)
What advice would you give to a company to stay long in this business?
MK - Keep calm and stay reliable.