Sobel Network Shipping Co., Inc. - Interview with Brian C. Wills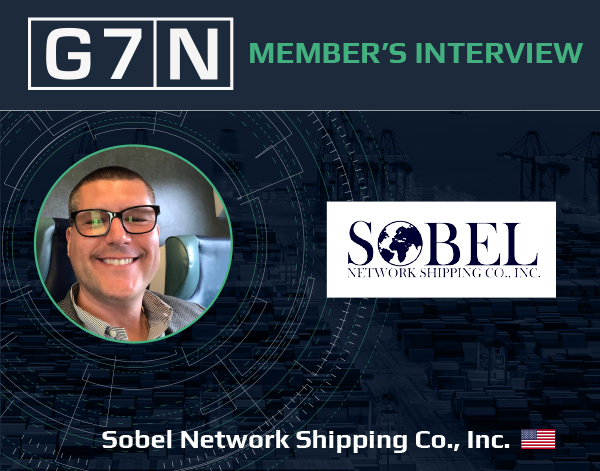 Logistics is an industry where relationships matter, both with customer and vendor side. As the industry sees increasing digitalization and automation, it becomes even more important to develop and maintain secure partnerships with supply chain service providers.
Brian C. Wills, President of Sobel Network Shipping Co., Inc., continues that customer focused legacy, nurturing strong relationships and leveraging modern technology. Let's get to know him more on this interview.
How did you get into the freight and logistics industry?
BW - I was in college at the time and driving a DHL van part-time in Jamaica, NY, and the outskirt cities of the airport to include the five-town area. Mostly all of my customers were freight forwarders and customs brokers. Fortunately for me, I totaled a BMW on the first day on my DHL route alone and was immediately terminated. Unable to get back into my van, I entered one of the customs brokers where the accident occurred and they offered me a job in their office to learn brokerage and logistics. I quickly learned the business and got my brokers' license at a very young age. The rest is history.
Sobel Network Shipping has been in the business for so many decades, tell us how you become a part of it?
BW - I met Mr. Sam Zekser through a mutual colleague who was the owner of Sobel Shipping Co., Inc. at that time. Upon meeting, we both felt that it was a very good fit. We were both very similar minded folks consequently the purchase moved quickly. Upon purchase, he immediately retired.
What made you decide to acquire Sobel Shipping than starting your own brand?
BW - I really loved the history of Sobel Shipping Co., Inc. along with its impeccable reputation and legacy. I immediately wanted to become a part of it and take it to the next level. Basically, I was able to build a brand from infancy because Sobel had no logo or website at that time. What intrigued me most was that I gained a reputable firm that was established in 1949 but was still able to put my stamp on it. The name was prominent but it needed some exposure and to be polished from a marketing prospective. I will always feel that this firm chose me.
What is something you would like to us to know about your company?
BW - Our legacy started as one of NYC oldest Custom House Brokers and we are very proud of our heritage which was the core of our firm. When I purchased Sobel, I saw an immediate need to start the forwarding side along with exports. I quickly obtained both our FMC and NVOCC licenses, which changed the whole company. This was a pivotal move that completely changed the nucleus of the firm and started our immediate growth. We now offer air or ocean, fully insured, door-to-door turnkey logistics solutions for all our customers. Sobel Network Shipping Co., Inc. has now morphed from just a broker to a fully operational logistics company.
If you can change anything about the freight forwarding industry, what would it be?
BW - I would definitely strive for more recognition for our industry as a whole. We are true professionals who work diligently and manage solutions for all types of companies large or small. The work of a logistics professional is not recognized enough and should be. I am glad to see that most colleges and universities now offer international business so we have made some strides in the right direction. I hope our future generation of logistic colleagues can take this industry to the next level!
Any future developments in process for Sobel Network Shipping?
BW - We are in the process of acquiring another firm which we are extremely happy to welcome them to our family here at SNS. They are a very good fit to our organization and would definitely be an additional pride for SNS.
For customs clearance in U.S.A., any advice or guidelines you can provide to your future partners?
BW - Most definitely, please always allow us to provide the correct tariff number and duty rate so we can guide you through the many perils of importing here into the United States. As you know, we are currently involved in a world renowned trade war with embargos and high sanctions set forth. We are experts here at SNS and first on customs broker so please rely on us prior to importing into the commerce of the United States. We provide clearances nationwide to include Alaska and Hawaii from our convenient New York location.
E-commerce is one of the services Sobel Network Shipping offers, what's the opportunities & benefits you find while applying these services when distributing?
BW - E-Commerce has definitely changed the industry and had a real impact here in the states. We provide a door-to-door E-Commerce solution which has expanded our market and opened up additional avenues for revenue. I have mixed emotions regarding E-commerce but it is the future and that is why we handle it. For example, we consolidate our E-commerce into our warehouse where we segregate, pick and pack. Then ship out to many different Amazon locations. It is the key, to know the different FBA warehouse guidelines and having a strong cartage partner who specializes in Amazon deliveries. Fortunately, we have an excellent partner who knows Amazon well.
Delivering chemicals is not easy, for Sobel Network Shipping what's the most important thing to consider when handling these products?
BW - Delivering chemicals is quite easy when you are accustomed to handling them. The chemical supply chain can be volatile and highly complex if you are not familiar with clearing such shipments. The biggest determining factor is whether or not they are HAZ MAT. A certified Haz Mat specialist must review the docs and handle the delivery. The material safety data sheets are mandatory. We have two HAZ MAT certified employees along with our seven licensed Customs Brokers on staff who can assist with this process.
Is there any future shipment that you're looking forward to handle?
BW - We are in the process of importing a large volume of rail cars which should be quite interesting. The bidding process and customs regulatory meetings have been quite intense and we look forward to the challenge. In the past, we have moved and imported large factories from overseas to be relocated here within the states. The whole program was over forty five shipments and it was extremely rewarding to see the factory rebuild here on U.S soil.