Transorient International Turkey got the Best Managed Company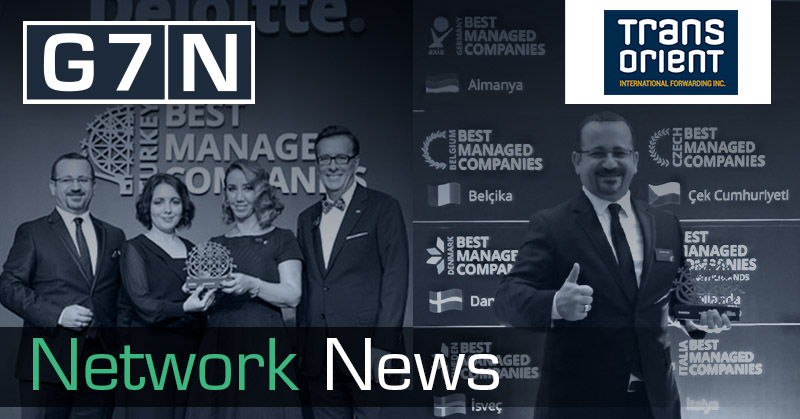 G7N member, Transorient International Turkey were presented with the "Best Managed Company" title on 11th November .
The "Best Managed Companies" program was held in Turkey by Deloitte Private for the second time in 2019. Following a meticulous evaluation over four main criteria (strategy, competence and innovation, culture and commitment and governance and financials), Transorient International Turkey were presented with the "Best Managed Company" title at the Gala Night on November 11th at Shangri-La Hotel in Istanbul.
Implemented in 15 countries and organized under the program for the second time in Turkey; the program involves an in-depth examination of the participating companies by Deloitte coaches and as a result of this review, 37 of the 95 companies that applied were presented to the jury as finalists and 15 companies succeeded to gain Best Managed Company title with an award.
Transorient, established in 1961, is one of the oldest independent logistics companies in Turkey who achieves sustainable existence with a dynamic vision. The roots of the company can be traced back over 58 years. TRANSORIENT has grown substantially over the past ten years and we are now considered to be one of the most predominant companies in the Turkish Transport and Logistics Sector with our own offices in Turkey. During half a century, we have stretched our boundaries and gained further expertise in Air, Ocean, Intermodal Transportation and Biopharma (Life Science) Logistics.

Sectoral Solutions & Value-Added Services:
Biopharma (Life Science) Logistics
Event & Exhibition Logistics
Fashion Logistics
Warehousing & QC Services
Domestic Distribution
Customs Brokerage (In-house Customs Office)
Vendor Management
Huge congratulations to Transorient International Turkey for their great achievement!
---
Check out this video to figure out more about them: https://vimeo.com/370634339

Keep updating your news to G7N team, we will help you to convey your successful stories!