G7N Quarterly Newsletter - Q4 2020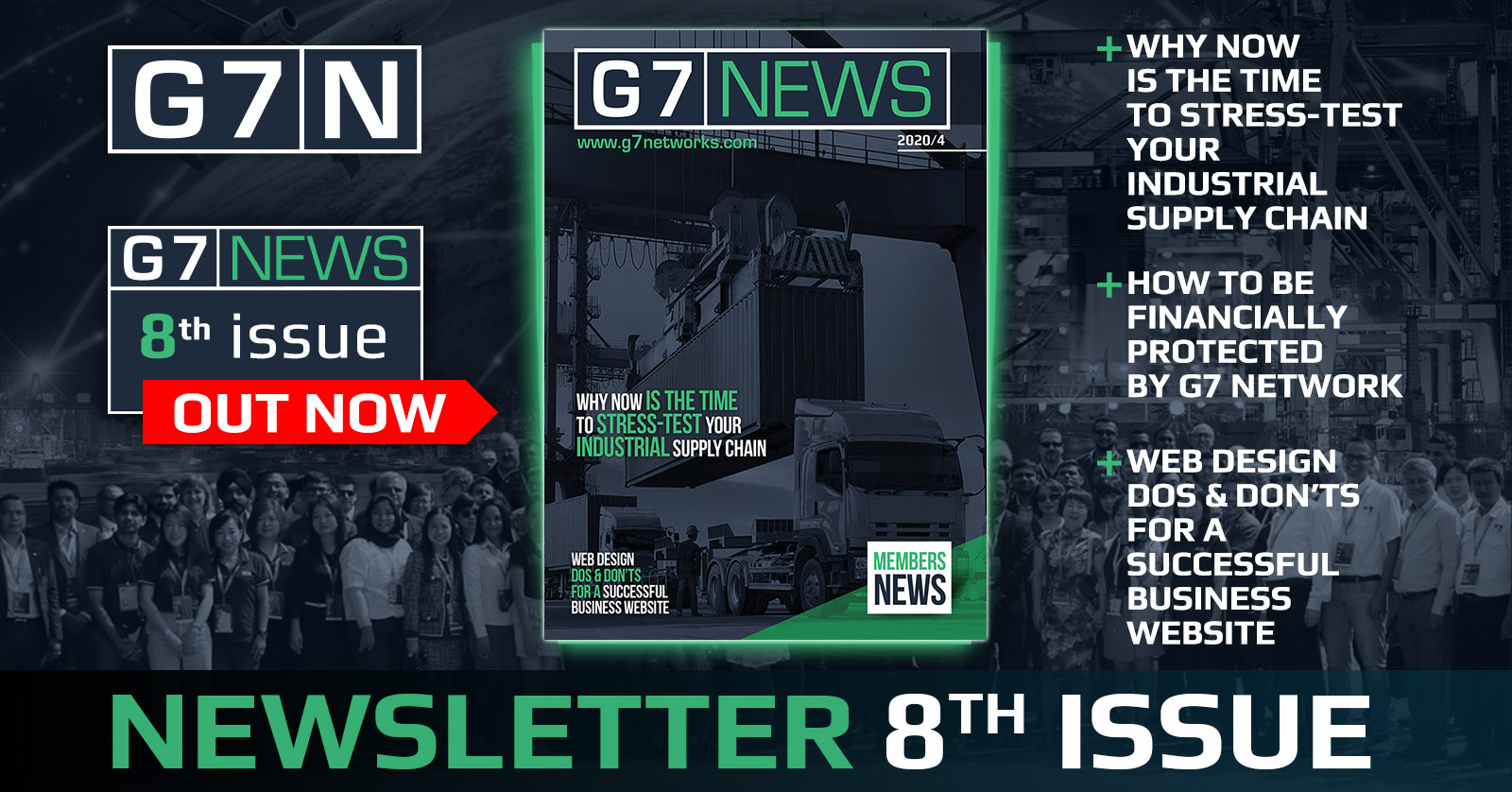 > > > CLICK HERE TO READ < < <

Dear G7N Colleagues,
Welcome to the final issue of our Q4 2020 newsletter and I would like to take this opportunity to wish all of you around the world a very Happy and Merry Xmas and final closure to a very strange year experienced by everyone around the World!
Thank you to everyone for all your efforts and support to one another throughout the year. The success of G7N is built on the efforts of both our members and our teams and in this past year, we have all faced some sort of struggles. We are already nearing the end of a very bizarre, strange and unprecedented year. A year that has not been easy. Like many of you, no doubt, we quickly had to find ways of adapting to the new normal and I look forward to much better year ahead with more hope and positivity for the world as we enter the New Year and as we all hope for a better future and one filled with promise and positivity.
This edition highlights the strong inter network collaborations conducted between members of the group and shows the resilience and continuation of business through some of the most difficult times experienced in our life time.
Throughout 2020 and despite the challenges faced, we have continued to strive to develop and build a professional and loyal membership. We maintained our focus on professionalism and did our best to measure the development of business volumes within the group as well as finding new ways to boost 'member to member' inquiries and grow 'member to member' business wherever possible. As we head into 2021, we will look at new ways to develop the networks' capability. I would like you all to know that everything we do at G7N is done with care and with sincerity for all members and for the well-being of the group. Sometimes we make the wrong decisions and make mistakes... and as we enter the New Year, I will be utilizing this time to look back and reflect upon myself and the network and look at ways to improve where I feel I we may have failed or could have done better. Continual improvement are two words I will focus on as we enter the New Year.
I am well aware of how disappointed everyone has been in regard to the postponement of our 2020 conference. The event originally due to take place in February was postponed three times and this was a decision I made in the interest and safety of all of the members, their staff and families. This decision to postpone has seen a significant financial impact on our company and this we hope will turnaround in 2022. It has also been very hard for all of the members to accept especially when this is one of the key elements of the network and getting to spend time together in a great environment which now seems like family. However, we must remain hopeful for the opportunity to meet each other again in 2021 and I am now in discussions with the hotels on setting those new dates as we enter an uncertain first quarter of 2021 especially with travel restrictions still in place. I would like to thank all of you that have maintained your faith in us and a big thank you to all delegates and sponsors that have maintained their hope, trust and patience for the next conference. This is very much appreciated.
Your support through the years and especially during this challenging time in all our lives is greatly appreciated. We are all going through a difficult chapter in our business and personal lives right now, and I would like to thank you for your understanding and support during these trying times.
But before we see each other again in the New Year, we would like to wish you and your friends and family the very best of health in the coming holiday season. We also hope that 2021 brings you happier prospects and sees a return to some sort of normality. Whatever the case, we hope it allows you to thrive. We must remain positive for a better year ahead and stay strong, safe and healthy.
We would like to thank you most sincerely for your continued faith in us, and look forward to working with you in 2021. Look after yourselves and your loved ones.
Merry Xmas and wishing you all a happier New Year ahead!
Regards,
Richard