Import or Export - Atlas Line will Take Good Care of it All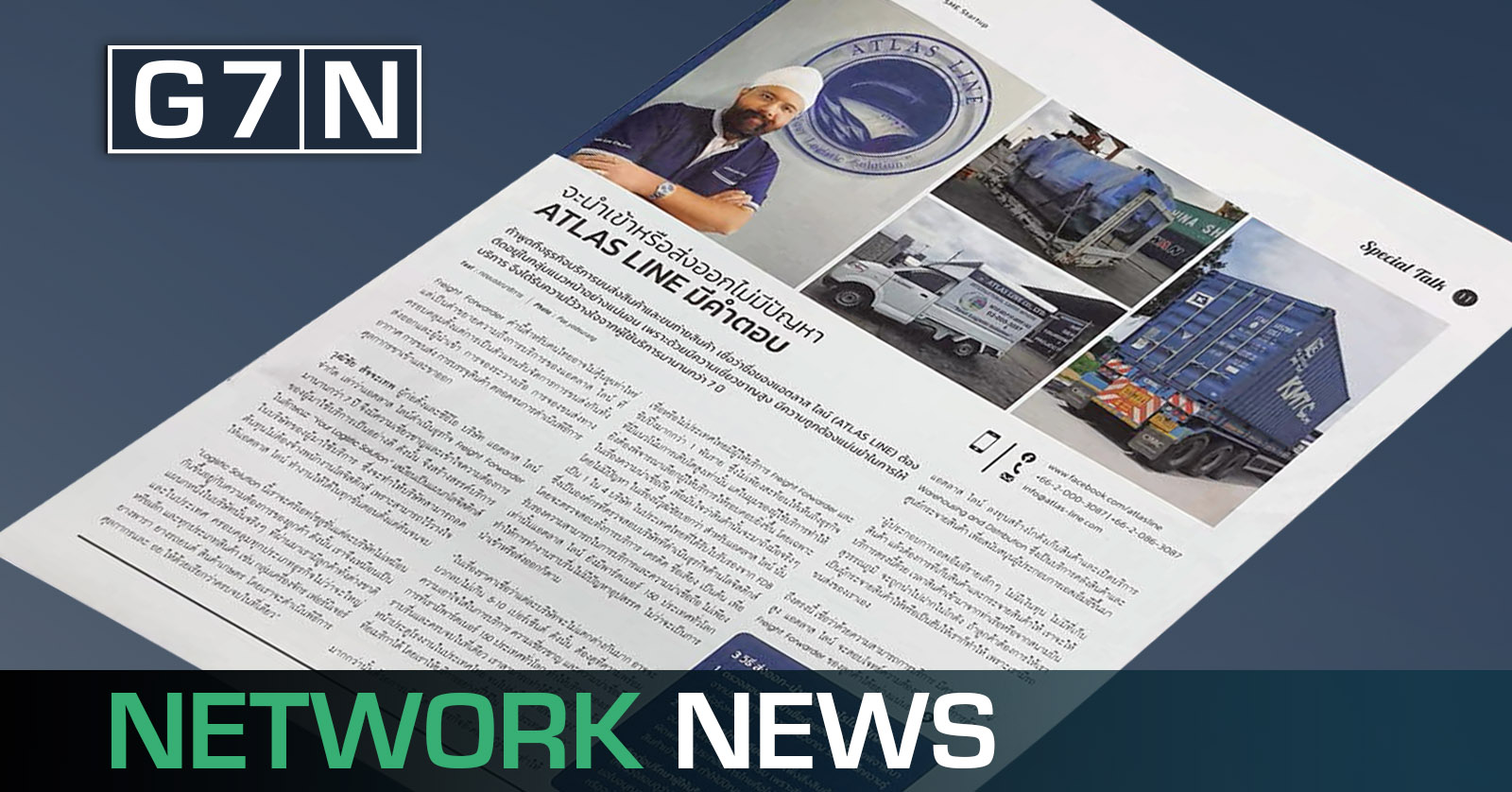 We would like to share G7 member's interview for the local logistics magazine in Thailand, Wuthichai Sachdev, Founder and CEO of ATLAS LINE CO., LTD. Read the interview below.
Import or Export - Atlas Line will Take Good Care of it All
If talking about the business of shipping and handling products, believe that the name of ATLAS LINE will definitely be in the forefront. Because with high expertise and accuracy in service, this has gained the trust of users for more than 7 years.
"Freight Forwarder" this word for Thai people may not be familiar with. But Gen words describe the service of ATLAS LINE that covers from being a transportation agent for both exporters and importers. Tonnage of reservation bookings, air freight, shipping, packing as well as import and export customs clearance.
Wuthichai Sachdev, Founder and CEO of ATLAS LINE CO., LTD said that ATLAS LINE has been in the Freight Forwarder business for more than 7 years, so they have expertise and understand the needs of customers who use the service. Therefore, the service is created in the form of "Your Logistic Solution" as if it is a logistics department in the user's company. This will enable the company to reduce costs without hiring logistics staff. Because you can trust ATLAS LINE to work every step of the way from start to finish.
"This Logistic Solution, we will create a solution for each company, which is not the same depending on customer requirements. So, we are really like a department in that company. In the past, we have had both foreign and domestic customers. Covering all types of businesses, big or small, and all types of products such as machinery, furniture, rubber, tires, agricultural products. We will carry out customs procedures and food and medicine as well, called complete in one place.
Believe it or not, Thailand has more than 1000 Freight Forwarders and Shipping service providers, not only reflecting the high growth prospects, but in the consumer's corner, it must be considered more carefully before choosing a service provider. Especially in regards to reliability, to ensure that the product will actually arrive in hand without problem. On this, Wuthichai said that ATLAS LINE is one of the four companies in Thailand to receive FDB certification. This is an organization that monitors companies operating in logistics. It will check both service, credit, reputation, etc. to assure their service ability and reliability. Not only that, ATLAS LINE has partners in 150 countries worldwide, making it work smoothly without any obstacles whether it is import or export.
In terms of price, we believe that each company will not be much different. Maybe plus or minus 5-10%, so have to look at the availability, service attentiveness, expertise and reliability. We have partners in 150 countries around the world making our services run smooth and complete in one place. We can do this from receiving the product at the doorstep of the factory in Thailand and delivered to your doorstep in the US factory. We can provide services like this in 150 countries around the world"
Moreover, with the growth of e-commerce business, ATLAS LINE has invested in opening a warehouse and distribution center service to support the SME operators to come up.
Small SME entrepreneurs have no funds, no storage facilities. They need a place to store and distribute products which we offer a service & provide additional services form there onwards. At the time of arrival from the port Or from Suvarnabhumi Airport Will be delivered in the warehouse If customer also wants us to be a distributor we have the perfect hub for customers to taker advantage of because we have our own transport vehicles.
To this point, believe that with the ability, service Highly skilled, ATLAS LINE will surely satisfy customer's Freight Forwarding needs.

Contact AtlasLine here:
https://g7networks.com/memberprofile?id=10998