Multitrans Logistics do Brasil Ltda - Interview With José Carlos Nascimento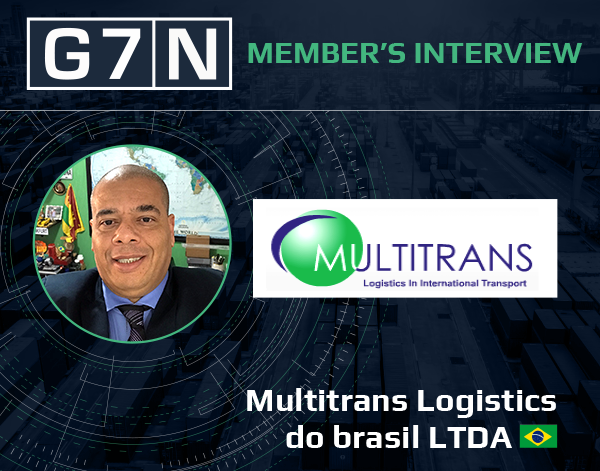 Multitrans Logistics do Brasil Ltda's professional philosophy is to serve their clients whatever their needs may be, at the lowest cost, in the shortest time, continually seeking to meet their diverse needs, which have been brought on by the globalisation of trade and industry. Let's get to know their Managing Director - José Carlos Nascimento Junior.

Let's start from the beginning, how and when did you begin working in the freight forwarding industry?
JCNJ - I've been working in this industry for 24 years already.
In Brazil, what are the challenges you face with regulations and other factors that affect shipping?
JCNJ - The most agents outside of Brazil knows very well, how difficult are the Customs Rules in my country, there is a lot of bureaucracy and rules to follow. They know Brazil is as a difficult country.
Speaking of regulations, what should people, shipping to your country, know about customs?
JCNJ - We always send messages and emails, where we describe and teach the agents how to issue documents to Brazil, they only release the cargo after our green light.
How do you describe Multitrans Logistics Do Brasil LTDA? Is there something that you'd like our readers to know about it?
JCNJ - This is a small company, but with highly professional and smart people. We minimise the time consumption and planning to have the information accessible for our customers online. Our goal is to satisfy 100% of our customers and agent partners.
How many offices do you have and where is your headquarters? When did you first establish the company?
JCNJ - The company is in São Paulo city, the main city of Brasil, close to the airport (Guarulhos and Viracopos) and port (Santos). We've set up the company in September 2002.
What advice would you give to a person, who is considering the freight forwarding industry as a career path?
JCNJ - If in my country - be patient! But for those, who are entering the industry now, think how to minimise time and accelerate the processes using the technology available today.
What's your ideal vision of the freight forwarding industry?
JCNJ - In my mind, less paper, more technology!!