Winipac Logistics Limited - Interview with Michael Pick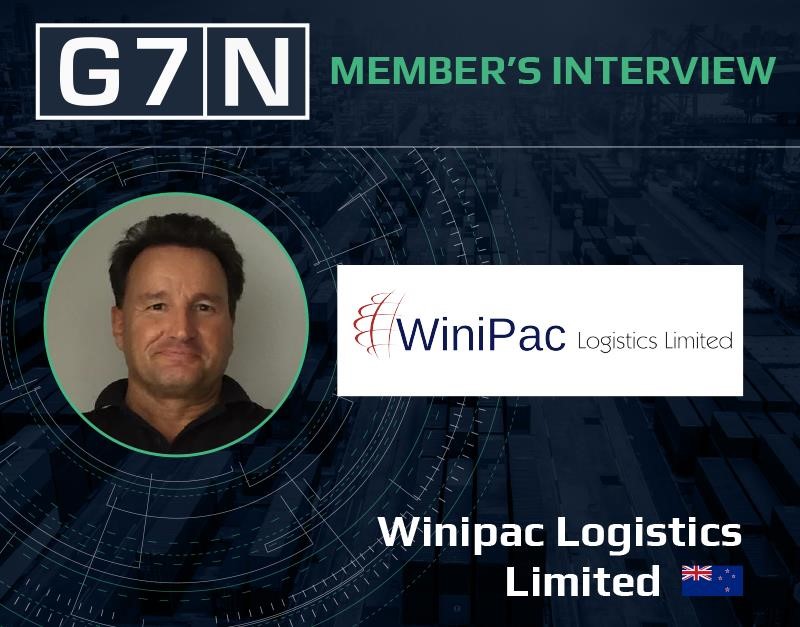 WiniPac Logistics Limited is part of an experienced global network with more than 170 countries around the world, offering world class service tailored for their client's needs. They pride themselves to be proactive and customer focused as they aim to provide tailor made solutions to their client's shipping needs. Let's get to know more with their Managing Director - Michael Pick.
Let's start from the beginning, how and when did you begin working in the freight forwarding industry?
MP - That was many moons ago. I have completed my degree in international logistics & freight forwarding about 27 years ago and have worked in this industry ever since. Most of that time I have spent working in Europe, Southern Africa, South America and Oceania.
In New Zealand, what are the challenges you face with regulations and other factors that affect shipping?
MP - Definitely the low Kiwi dollar vs USD which is on a 3years low. A weaker dollar means higher costs for all our imports like petrol and everything else we buy overseas, from cars to computers, to the food we import as well. Our economy relies on imported goods from all corners of the globe.
Speaking of regulations, what should people shipping to your country know about customs?
MP - In short. Customs is very strict and paperwork needs to be 100 accurate. Biosecurity is a big fact and very important to our country. We are a small country and goods coming into New Zealand by air, sea, or even by mail need to pass strict biosecurity requirements to prevent the introduction of pests and diseases. Products brought into New Zealand that could contain unwanted pests or organisms need to follow strict import health standards. All imported goods need to be certified and cleared by MPI – Ministry for Primary Industries. Any wrong or missing documentation will cause delays and money.
How do you describe Winipac Logistics Limited? What is something that you'd like our readers to know about it?
MP - WiniPac is very service oriented and believes in strong relationships with its customer and overseas agents. Our clientele really varies from multibillion government projects on the Pacific Island to personal effects. We do high value auction wine to on-board courier for high value items. We are a family owned company and we treat all customer the same.
How many offices do you have and where is your headquarters?
MP - At the moment we have two offices. The headquarter is in Auckland, NZ on the North Shore and a branch in Sydney, Australia.
When did you first establish the company?
MP - That wasn't too long ago. After many years working as partner and shareholder for a multinational, we decided to start doing something on our own. This was back in early 2017.
What advice would you give to a person who is considering the freight forwarding industry as a career path?
MP - Expect long hours and big competition. However, it's a challenging and very interesting work where no two days are ever the same. Freight Forwarding and Logistics is needed around the globe and you can basically work anywhere in the world.
What's your ideal vision of the freight forwarding industry?
MP - That every shipment has to run through WiniPac Logistics
Are there any unique items that you specialize in handling, such as art, vehicles, or other goods
MP - Not really unique but we do quite a bit of projects to the Pacific Islands and international auction wine.
How as the general freight industry changed since you began working in logistics?
MP - Oh, quite a lot! In terms of technology anyway. Everything is much faster, everyone has its own computer and mobile phone now. We can monitor all our shipments and track and trace them. The communication is so much better and easier these days and simplifies our working life in many ways.
With the recent changes with ocean carriers, what are your thoughts on the state of ocean shipping?
MP - With changes come opportunities. Something is always changing in our industry and it is not always bad. It is nothing I can change anyway so we deal with whatever comes.
Have you had any particularly unique shipments in the past? Surprising cargo or something that's a "once in a lifetime" opportunity?
MP - Actually yes, just recently. We had to ship an 80 ton Grove Crane from Brisbane to a place called Kiritimati, which is part of the Republic of Kiribati Island. Below is the "port" of Kiritimati. The crane was actually meant for the port of Kiritimati. The port itself don't have the facility to unload such heavy equipment, so we had to unload this crane using vessels ships gear. We also had restrictions here so we needed to dismantle the boom and counterparts and load all bits and pieces onto 1x40 & 1x20' Flat Rack and the unit itself went break bulk. We had to use ships gear for unloading and were very much depending on the swirls and currents before berthing below wharf. It took several days and approaches to get the crane off the vessel. Doesn't sound like a big deal, but was quite interesting project considering the size of the shipment and local conditions. That's the story in a nutshell.