TEC Cargo Italia S.R.L. - Interview with Massimo Mazzantini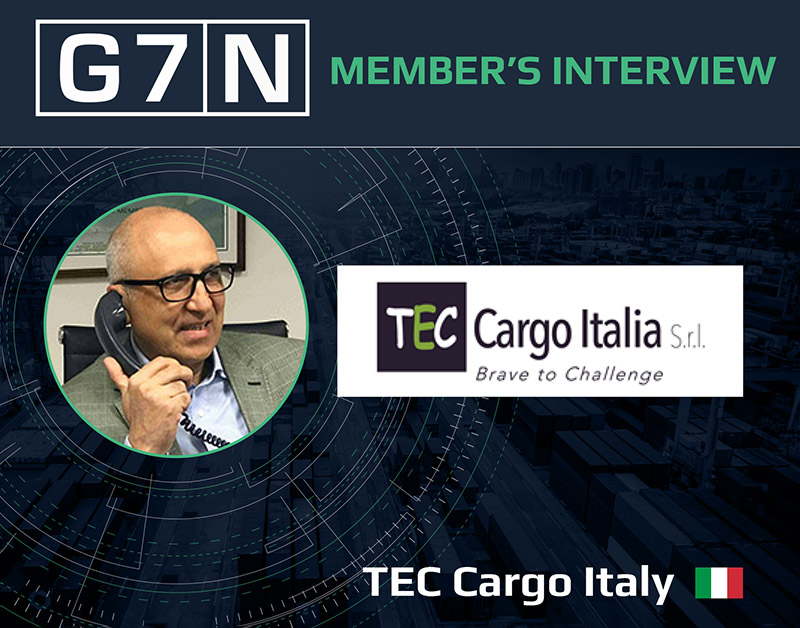 TEC CARGO ITALIA SRL, set up on 2015, is an International Freight Forwarder specialized in Air and Sea transportation who is able to guarantee professional handling of export/import consignments to and from the major international destinations all around the 6 Continents and guarantees regular export/import shipments. Airfreight movements and consolidations are their core business but can provide an excellent support for all types of ocean freight traffics such as LCL, FCL and OGH consignments. Flexibility and Availability are a MUST for the company and their Motto: "Brave to Challenge", is self-explanatory and represent in a very good manner their attitudes and peculiarities to face properly any inquiry in their very competitive field.
From Porsches to massive containers being successfully delivered to its final destination, please keep on reading to learn more about the experiences Managing Director Massimo Mazzantini has gone through with TEC CARGO ITALIA.
What are your daily duties at TEC Cargo?
MM - My typical working day at Tec Cargo starts in the morning by reading all the incoming mails and organizing the job considering the incoming inquiries from all over the World. After 10:00 a.m. -time for a coffee, the day is going ahead by supervising both the operation and accounting situations just to be sure that everything's running properly. Usually my working day starts at 8:30 a.m. and I am closing the office at around 8 p.m. or later, depending on the working season.

What are the activities you find the most enjoyable as a Director position?
MM - I cannot say that we have "enjoyable" activities to be face by a Freight Forwarder's Director. Basically, daily troubles are something you cannot avoid to face and take care of, as a Director; we cannot call them "enjoyable" activities… Anyway, what I am really enjoying is the fact that I can think about the Company's future in a pragmatic and focused way planning our strategies and various ways to develop the business with a clear view coming from many years of experience which are vital to be a company owner who is always involved in 100% of our issues.
What are the periods of the year in which you struggle more regarding demand from other companies?
MM - The toughest periods of the year, when we really have to fight in order to keep things running properly, are March and April, July and August and right before and during the Christmas/end of the year holidays. These periods are the peak seasons and the clients' demand is really out of mind!
What is the biggest learning you've gained from your experience in working in TEC Cargo or from the logistics business?
MM - Honestly, our industry is teaching you something every day, so throughout 36 years of straight experience I have learnt something step by step and day after day. Now, as the Company owner, I am still learning a lot and will never stop. Air freight, sea freight, logistics, customs clearance issues, accounting matters are always requesting you a new challenge and we must be ready to face them.
What is the toughest side of meeting deadlines when you do a sea freight project or challenges you encountered on special activities to execute during the process?
MM - The toughest side is the challenge, when you are organizing an OHG project consignment by ocean freight, is the organization of the movements related to package collection which is most time subject to Public Authority authorizations and a few weeks earlier you have to start in planning carefully all the moves to bring the cargo from factory to port of arrival.
What is the biggest challenges you have faced in the industry when handling with over-sized cargo?
MM - In moving over-sized cargo the key is to handle it through the right inland haulers and carriers. The choice of them is really something which can be considered the biggest challenge when organizing this kind of consignments.
Some of TEC CARGO'S successful projects:
A shipment from Italy to Vancouver by airfreight that was been handled greatly through CARGOLUX service.
50x40' containers of heavy blocks moved by crane.
LOTUS and PORSCHE shipment by sea freight ready to be loaded into the containers from the project organized by touring car racing in Middle East.
What are the benefits you offer that makes you out-stand from other air/sea freight companies?
MM - Talking about our organization, the best we are offering from our overseas partners' point of view is efficiency in giving a quick and proper feedback on all their inquiries. We need all of them get the feeling that Tec Cargo Italia organization is perfectly tight for their needs and can give them the weapons to get new traffic taking them away from multinational forwarders who, most of times, cannot provide the same level of service and quick answers/solutions.
The freight forwarding industry keeps on evolving; have you ever thought about wanting to improve something about this industry?
MM - We are always open to new technology and solutions. From this point of view, we have already a modern operational system to produce our consignments and we will improve from this point of view our performances in order to meet clients demand which is going to be more and more challenging.
In the Logistics business, companies have to keep updating their technologies to ensure processes are run efficiently; are there any new technologies your company has adopted to work with in a daily basis? If yes, please specify.
MM - Nowadays we are working on operational software system keeping it updated to comply with the latest requests coming mainly from the airlines and shipping lines. We have been also working with WEBCARGO group handling all our quotations and offers by air through their portal. This allows us to keep the job done with a modern and exclusive interface.