Tips In Bettering Your Networking Events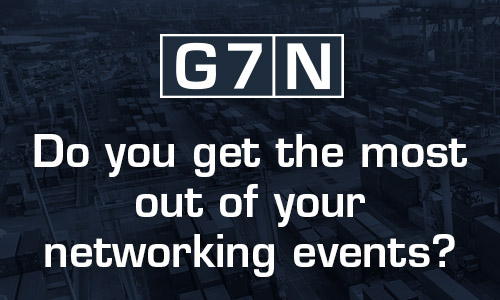 Logistics Events: Why your company needs to go.
When operating in an extremely competitive market such as freight forwarding having reliable partners from around the world plays a huge role in increasing business and taking your company to that next step we all work towards. This is where attending business networking events with like-minded individuals needs to be a constant activity.
Networking takes time, effort and skills. Choosing the right events to attend and making the most of them can be one of the most valuable strategies a company can implement in terms of return and not just financial return but also providing you with many new learnings and opportunities.
Everyone has their own style of networking and building relationships with partners but at the end of the day it can be narrowed down to a few points that establishes the base of effective and professional networking.
Here are some tips helping you and your company to improve your networking abilities.
Tips in bettering your networking events:
Attend the right events
Attending the wrong event is a common mistake many freight forwarder make. Taking part in these types of events is a big investment where costs can be high due to travelling expenses. It is so important to carefully define the best suited event for your company to ensure positive results and a return on your investment.
Carefully select events that can provide you with the right opportunities to take your company to the next level. Think in the long term and ask yourself, will attending the event and meeting with these specific agents benefit your company in the future.
Let everyone know what event you will be attending.
Make use of free marketing tools to create awareness that your company will be attending an event months before the event begins. Social media, personalized email signatures as well as advertising on your company website are just a few examples that can be implemented in creating this awareness.
Update all communication channels.
Before attending an event and meeting new potential partners from all around the world check that all your communication channels are updated. Website, social networks, email signature and other possible points of contact should contain your email address, phone number and necessary company information.
Preparation before the event.
Not doing your homework before you meet with new potential partners is one of the biggest let downs when attending networking events. Make sure that you are prepared the best you can to ensure that no time is wasted and each meeting is effective and valuable to your company.
To avoid this:
-Make sure you are aware of who you are meeting with.
-Conduct research about their company.
-Outline the key aspects of the services they provide
-Define what kind of business you should discuss during the meeting.
Remember to introduce your company in a way that catches their attention and shows that you are completely confident about what your company does are capable of doing, be prepared to answer any question they might have.
Find the right freight forwarders to connect with.
Many freight forwarders join big logistics networks that do not make any kind of analysis and let any freight forwarder join the network, so it does not make any difference than searching for agents on different online platforms. This kind of information and knowledge about the network and the members within a network is crucial if you want your business to thrive and make an return on your invest in joining your desired network.
In order to make sure you are meeting reliable freight forwarders, you must find a logistics network that makes a strict certification and gets an indication and references from other reliable members in order to get in the network, like G7N does with all its members.
Create new meaningful relationships.
Don't be scared to branch out and meet new agents. Don't limit yourself to socializing with the partners you know or have meet at previous events that you have attended. It is important to make the most of the event, introduce yourself to as many people as you can- create yourself new opportunities by being confident, friendly and professional.
Networking events are important in getting yourself out there meeting new people, building long lasting relationships and expanding your agent list. Make the most of your investment and network to the best of your ability.
Always have your marketing material with you.
With agents having a number of meetings at the event making it nearly impossible to remember what services your company has to offer, this is why providing the agents you meet with marketing materiel is so important.
Give the agents you meet with your company brochure, company presentations and promotional gifts but most importantly exchange business cards.
Create something that will catch the attention of other agents, making your company memorable to them, thus increasing your chances of business generation and building a long term relationship.
Keep in contact with your agents.
Once you have met and built a stable relationship with many worldwide freight forwarders it is important to maintain that relationship and to not loose contact with them even if you are not exchanging business.
Creating a good relationship must not be limited to just a good business relationship but must be taken to the next level of creating a personal relationship. Get to know the person, build trust, respect and loyalty between each other.
Conduct constructive follow-ups.
Don't think that after the event your work is done, it is only the foundation and starting point of a long process in building a business reciprocating relationship. This is where the follow- up process comes into play and is so important in ensuring that attending the event was not a waste of time and to make the return on your investment.
Keep in touch with agents you met with and don't let your company be forgotten, even if there is not business transactions going on keep building the relationship ensuring business will happen in the future .
Now that you know how to avoid these mistakes, you should be ready to have an outstanding to better your performance in your next networking opportunities! Increase your agents list worldwide and most importantly make friends who will reciprocate business.
Every year G7N Logistics Network brings together over 110 members from over 60 countries for the annual G7N Conference. Join us at one of the most effective and beneficial conferences next year as we host our 4th Annual Conference. Network with some of the best freight forwarders in the industry and expand your reach worldwide
G7N have been hard at work planning the much anticipated 4th Annual Conference and will be releasing more information in the next couple of weeks….STAY TUNED!!