G7N 4th Annual Conference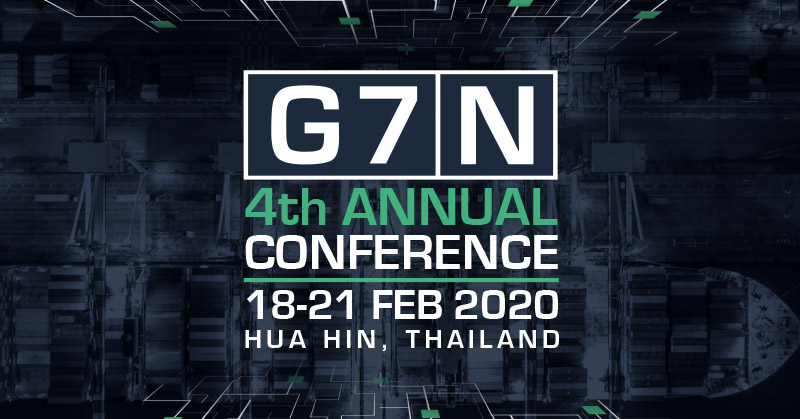 It is that time of year where the team has been slogging away to get the final conference prep ready for launch today. As you can imagine we are getting emails and messages daily asking us where the conference will be, what are the dates and what we need to do better at the next conference? We have listened and we can assure you that the 4th Conference is going to be our best one yet. For all the members that have attended all our conferences, you would have noticed an obvious incline in the quality of the conference, this will continue year on year as we strive to be better. This was a promise we made at the first ever conference and we intend on making this a reality.
Looking back at what people had to say about last year's conference, there is one key word that sticks out for me, we will repeat a few of the comments we received and we want to see if you can spot it:
"It was really a fantastic experience. Haven't seen so much positivity and joy in any other conferences I've visited before and I can easily say it was the best one to this day" - Jernej Hribar (2HM Logistics)
"The concept, environment and positivity the G7N team have created for the conference is awesome, it allows you to build friendship that is the base of strong business relationships" - Paulina Arroyo (JM Logistic Services, S.A DE C.V)
"The conference and members are awesome and the interactive atmosphere is particularly impressive! Never seen such a difference in Networking and opportunities for everyone! You can feel the positivity, professionalism, experience and energy of the Network!" - Marcel Macke (Cargo Movers GmbH)
POSITIVITY… What an amazing word and what a difference it can make to our lives. Now G7N is a lot more than just a positive network, however the positivity is an important foundation in creating the G7N family that we all know today, without it we would just be an ordinary network on a stagnant path. All the credit should go to you, you are the reason for this family and we want us all to celebrate together as we grow and strengthen the network in 2020.
When operating in an extremely competitive market such as freight forwarding having a professional network with reliable partners from around the world plays a huge role in increasing business and taking your company to that next step we all work towards. This is where attending the 4th Annual G7N Conference with like-minded individuals needs to be a constant activity.
Networking takes time, effort and skills. Choosing the right events to attend and making the most of them can be one of the most valuable strategies a company can implement in terms of return and not just financial return but also providing you with many new learnings and opportunities.
Everyone has their own style of networking and building relationships with partners but at the end of the day it can be narrowed down to a few points that establishes the base of effective and professional networking. The main point being that you choose a network that is professional and cares for you, a network that is constantly in contact with members, a network that makes the effort to travel and visit members in their own environment, a network that is passionate about what they do and lastly a network that is ever evolving.
We look forward to releasing more information over the next few weeks but more importantly we are really looking forward to making another successful event with you all next year.