Global Logistics 2020: Mixed feelings permeate operations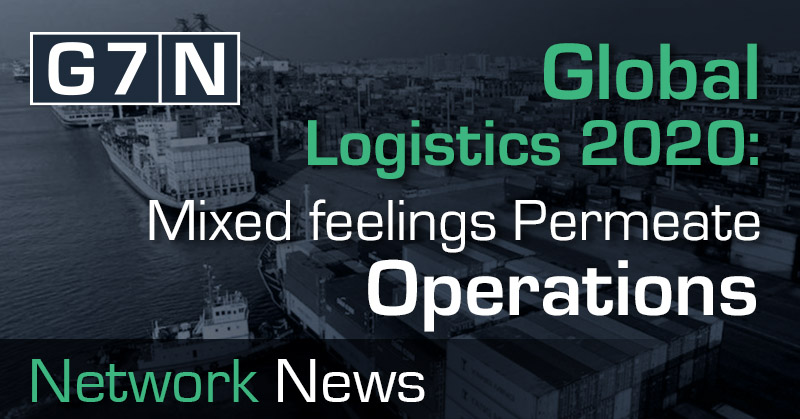 Last year was another extremely turbulent period of time for the global transport and logistics industry. With Brexit evolving into an never-ending drama, fresh trade disputes and customs threats constantly arising, and now new emissions control going into effect, carriers, shippers and port operators needed to strengthen their nerves over the past 12 months—and now the industry as a whole is looking to 2020 with a mixture of concern and hope.
With 2019 in the rearview mirror, here's what should be on your radar for 2020.
Headwinds easing for air cargo
The air cargo industry certainly had a bumpy ride in 2019 due to the effects of the trade war between the United States and China, the deterioration in global trade, and a broad-based slowdown in economic growth. However, the International Air Transport Association (IATA) expects some small improvements for the air cargo industry in 2020. In its annual outlook, IATA has forecasted that the global airline industry will produce a net profit of $29.3 billion in 2020, well above the net profit of $25.9 billion expected in 2019
If achieved, 2020 will mark the industry's 11th consecutive year in the black. In 2019, air cargo traffic turned negative for the first time since 2012. The 3.3% annual decline in demand was the steepest drop since 2009 during the global financial crisis. Freight carriage slipped to 61.2 million metric tons (2018: 63.3 million tons). Cargo traffic is expected to rebound with 2% growth in 2020 while volume is predicted to reach 62.4 million tons. Yields will continue to slide (-3%), but more softly than in 2019 (-5%). Cargo revenues will slip for a third year in 2020 with revenues expected to total $101.2 billion (-1.1%).
In January 2020, IATA released data on the global air cargo market from November 2019, showing that demand, measured in freight ton kilometers (FTKs), decreased by 1.1% compared to the same period in 2018. This marks the 13th consecutive month of year-on-year declines in freight volumes.
By region, North American carriers saw a 1.1% decrease in freight demand due to slower growth in the U.S. economy and trade tensions with China. European airlines posted a 2.6% increase in freight demand for the same period. Better than expected economic activity in the third quarter in several of the Europe's larger economies helped support demand.
Asia-Pacific airlines experienced a 3.7% decrease in demand, which was the sharpest drop of any region for the month. Nevertheless, the thaw in U.S.-China trade relations and robust growth in key regional economies are positive developments.
Looking ahead, China-based express carrier SF Airlines plans to launch scheduled and charter cargo flights between United States and Chinese destinations in 2020, after gaining approval for flights from the U.S. Department of Transportation. The new service is part of the airline's international expansion strategy, after starting its services to Europe in 2019.
European ports still see solid growth
For the three major European container ports of Rotterdam, Antwerp and Hamburg, the year 2019 was mostly positive. According to the ports' container volume data, for the first three quarters in 2019, Rotterdam and Antwerp recorded growth of 3.8% and 6.4%, while Hamburg increased container throughput by 6.9% and regained its market share.
"The significant increase in container handling at the port of Hamburg is primarily due to four new trans-Atlantic services that connect Hamburg with ports on the U.S. East Coast, Canada and Mexico," says Axel Mattern, CEO of Port of Hamburg Marketing. "In the ranking of Hamburg's most important trading partners, the United States has now risen from 17th to 2nd place in container traffic."
Against the background of trade restrictions, Brexit, IMO 2020 and new customs regulations, the overall development has been surprisingly stable and even brought growth for the leading ports. According to Port of Antwerp CEO Jacques Vandermeiren, "The uncertainty in world trade has not yet had any impact on our container volume. In fact, it's continuing to expand."
In 2020, Vandermeiren says that the port will continue to improve sustainability and mobility by more efficient consolidation of freight traffic, further digitization of the port infrastructure and coordinated management of rail infrastructure.
Eyes on new markets
The "phase one" trade agreement negotiated between United States and China in December 2019 has led to a slight de-escalation in the trade war between the two countries—and brought with it a sigh of relief from the global transport and logistics industry.
However, hardly anyone really expects that trade relations between the two countries will be back to "normal" in the near future. Rather, it's expected that the trade war between the United States and China will lead to changes in trade structures, with global importers having shifted sourcing from China to other countries such as Vietnam, Taiwan, Bangladesh and South Korea.
Thailand, Mexico and India are showing early signs of being next in line to benefit. India in particular has become very attractive, according to Steve Felder, managing director for Maersk South Asia. "As the global economy continues to face challenges, and trade tensions between major economies ensue, many leading global importers have begun exploring trade alternatives to China," he says. The United States has emerged as a strong trade partner with India, showing growth in exports as well as imports. India boosted its 'Ease of Doing Business' in World Bank's 2020 rankings. This provides a huge opportunity to entice multinationals and global investors to grow their trade with India."
According to Maersk's latest India third quarter trade report (July–Sept. 2019), the United States is still among the top trade partners for India and witnessed export trade growth of 12%, largely led by furniture, vehicles, textiles and apparel. Imports from the United States grew by 6%, largely driven by metals, plastic and rubber.
"The government has ambitious goals of reaching a $5 trillion economy," says Felder. "To achieve this, there has to be a focused approach in implementing reforms and measure to drastically improve the landside infrastructure to boost logistics further and adopt digitalization as rapidly as possible."
U.S. air carriers are also responding to these new market opportunities and expanding their service to India. Delta Air Lines Cargo recently launched its first nonstop flight between New York-JFK and Mumbai with a Boeing 777-200LR aircraft.
"This is an exciting new route for us and the extensive connections from New York really plays to our network strength in the United States, providing customers with significant opportunities for import and export in a market that is seeing huge growth," says Gonzalo Hernandez of Delta Cargo Sales in Europe, Middle East, Africa and India.
Make Europe climate neutral by 2050?
In fact, that's the ambitious target of the European Green Deal, which the European Commission presented in December 2019. The Green Deal package includes a 50% to 55% emissions reduction target for 2030, with a new law to reach net-zero carbon by 2050.
To help finance the transition, the Commission promised €100 billion, along with a carbon border tax on imports into the EU from countries that don't have sufficiently stringent carbon targets. According to the Commission, transport accounts for 27% of the EU's greenhouse gas emissions. Therefore, a 90% reduction in transport emissions is necessary to achieve climate neutrality by 2050.
Road, rail, aviation and waterborne transport have to contribute to the reduction, the Commission demands. The Green Deal includes promoting sustainable alternative fuels—such as biofuels and hydrogen—in aviation, ocean shipping and heavy-duty road transport, where electrification is currently not possible.
Furthermore, it will extend European emissions trading to the maritime sector and reduce the allowances allocated for free to airlines under the EU Emissions Trading System. Another measure is to improve air quality near airports by tackling pollutant emissions from airplanes and airport operation, while docked ships in EU ports are to be required to use shore-side electricity. By this summer, the Commission will reveal a detailed plan on how to achieve the greenhouse gas emission reductions target for 2030.
IMO 2020 regulation in effect
The IMO 2020 regulation to reduce sulphur oxide (SOx) emissions from ships has come into effect with a significant impact on the shipping industry. IMO 2020 limits sulphur in fuel oil used onboard ships operating outside designated emission control areas from 3.50% mass by mass (m/m) to 0.50% m/m. The International Maritime Organization (IMO) expects that the new limit will mean a 77% drop in overall SOx emissions from ships, equivalent to an annual reduction of approximately 8.5 million metric tons of SOx.
According to DNV GL, this requirement is in addition to the 0.10% sulphur limit in the North American, U.S. Caribbean, North Sea and Baltic Sulphur Emission Control Areas (SECAs). Vessels that have exhaust gas cleaning systems installed will be allowed to continue using high-sulphur fuel oil.
China has announced that as of January 1, 2019, it is expanding the geographical coverage of its 0.50% sulphur areas to a 12-nautical-mile zone covering the entire Chinese coastline. In addition, discharging wastewater from scrubbers is banned within inland Emission Control Areas (ECAs), port waters and the Bohai Bay waters. A full ban on open-loop scrubbers from the country's ECA could also be adopted in the future.
The introduction of the IMO 2020 sulphur cap brings additional costs for carriers. According to DSV, carriers will move away from so-called "all in rates" to be compensated for higher costs. To mitigate fuel price volatility and transitional operational expenses, Hapag-Lloyd introduced an IMO 2020 Transition Charge (ITC) for short-term contracts in December 2019.
"Switching from high-sulphur fuels to the new low-sulphur fuel will inevitably result in higher fuel prices in the short term," says Rolf Habben Jansen, CEO of Hapag-Lloyd. "Volatility is also expected to increase, particularly during the transition period. Given these circumstances, we will implement the ITC to cope with the additional costs as well as to have a sustainable and transparent method of pricing our services for our customers."
Shipping industry to spend $5 billion to cut emissions
With the introduction of low-sulphur fuel regulations for maritime shipping this year, the global maritime transport industry has submitted a proposal to the IMO to form the world's first collaborative shipping research and development (R&D) program to eliminate CO2 emissions from ocean shipping.
The proposal includes core R&D funding from ship owners across the world of about $5 billion over a 10-year period. The target is to establish an International Maritime Research and Development Board (IMRB), a non-governmental R&D organization, to develop new zero-carbon technologies and propulsion systems, such as green hydrogen and ammonia, fuel cells, batteries and synthetic fuels produced from renewable energy sources.
The IMRB will be financed by international shipping companies via a mandatory R&D contribution of $2 per ton of marine fuel purchased. Based on current consumption, the total amount collected is expected to be $5 billion by 2030. The supporters are BIMCO, Cruise Lines International Association, Interferry, the International Chamber of Shipping (ICS), Intercargo, Intertanko, the International Parcel Tankers' Association and the World Shipping Council, which represent over 90% of the world merchant fleet.
The shipping industry's proposal, which will be reviewed by the IMO Marine Environment Protection Committee in March of this year, can be put in place by 2023 via amendments to the existing IMO Convention for the Prevention of Pollution from Ships (MARPOL).
Digitalization and autonomous shipping
In global shipping, the trend toward digitalization and autonomous vessels will continue to make transport more environmentally friendly, safer and cost-effective. According to a study of the World Maritime University, autonomous ships may account for up to 17% of global shipping by 2040. Autonomous vessels are in development in Europe and Asia, while cargo vessels already in operation are getting retrofitted with autonomous technologies.
CMA CGM has started a cooperation with Shone, a San Francisco-based startup, to develop artificial intelligence systems on board container ships, which will facilitate the work of crews on board, whether in decision support, maritime safety or piloting assistance. Around the world, fully autonomous vessels are under construction or in the trial stage.
One of the first and renowned autonomous pilot projects, Yara Birkeland, an inland electric container ship developed by Kongsberg and Yara in Norway, is due to be delivered this year and will gradually move from manned operation to fully autonomous operation by 2022.
Asia is also catching up with autonomous vessels. In December 2019, Zhuhai-based technology group Yunzhou Tech completed the trial of China's first autonomous cargo ship. The 12.9-meter vessel "Jin Dou Yun 0 Hao" successfully carried its first cargo load from Zhuhai's Dong Ao island to the No.1 pier of the Hong Kong-Zhuhai-Macao bridge. Also last year, Japan's NYK tested its first autonomous vessel, the 70,826-ton pure car truck carrier "Iris Leader," sailing from China to Japan.
A collaboration effort between ABB and Keppel has been started in Singapore to bring South Asia's first autonomous tug into operation, which is scheduled for the end of this year. In working on regulations for autonomous ships, the IMO is currently assessing existing IMO instruments to see how they might apply to ships with varying degrees of automation through a regulatory scoping exercise on Maritime Autonomous Surface Ships (MASS). The Maritime Safety Committee approved interim guidelines for MASS trials last June. The aim is to complete the regulatory scoping exercise in 2020.
Source: logisticsmgmt.com