Pace Forwarding receives GDP Certification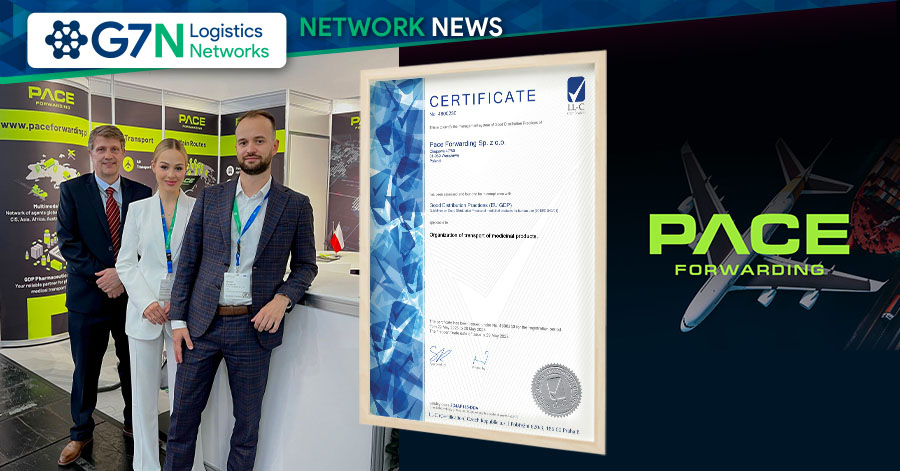 Our G7N Logistics Networks member, Pace Forwarding, a global logistics and freight forwarding company, is proud to announce the successful acquisition of its Good Distribution Practice (GDP) certification. This certification underscores Pace Forwarding's commitment to upholding the highest standards in pharmaceutical logistics.

GDP is a quality assurance system that ensures the integrity, safety, and efficacy of pharmaceutical products throughout the supply chain. By obtaining the GDP certification, Pace Forwarding demonstrates its dedication to maintaining the stringent requirements necessary for handling and transporting pharmaceuticals.

The acquisition of the GDP certification highlights Pace Forwarding's capability to provide secure and reliable logistics services for the pharmaceutical industry. With this certification in place, the company can offer end-to-end solutions, including temperature-controlled storage, transportation, and distribution, while maintaining the integrity of sensitive pharmaceutical products.

"We are thrilled to have received the GDP certification, as it validates our expertise and commitment to excellence in pharmaceutical logistics," said Andrei Zyryanov, CEO at Pace Forwarding. "This certification further strengthens our ability to meet the unique challenges and requirements of the pharmaceutical industry, ensuring the safe and efficient transportation of critical healthcare products."

The GDP certification is a testament to Pace Forwarding's continuous efforts to improve and enhance its service offerings. It demonstrates the company's dedication to delivering pharmaceutical logistics solutions that adhere to the highest industry standards and regulatory compliance.

Congratulations, Pace Forwarding.
For more info see their G7N profile:
https://member.g7logisticsnetworks.com/member_profile?id=11571